Washington, DC ~ May - August 2018
The Digitization Program Office (DPO) works to digitize the Smithsonian's vast collections spanning over 19 museums and 138 million objects. From late May through August I interned for the 3D branch of the DPO working on several pilot projects in addition to assisting on post-processing.
National Museum of Natural History
The first major project I worked on is the Smithsonian National Museum of Natural History Coral Pilot Project. The 3D team worked with Tim Coffer, a Collections Manager to design the pilot project. I performed Smartscan support on a structured light scanner and documentation lead. This machine projects a fringe like pattern on the object and the two cameras attached take that information and produce a high-resolution surface model of roughly one square inch on the surface. Over the course of two weeks in the Invertebrate Zoology Department, I 3D scanned twenty corals. The 3D models of the corals will eventually become interactive online experiences to engage the public in reef health and to be used in classrooms. A sample coral that was shot before I came to the office is already online.
Here I am aligning scans using Optocat software. For this project, we performed twenty scans per rotation, at several different angles, to produce a high resolution surface model.
Numismatics Pilot Project
National Museum of American History
The second project I worked on was running the photogrammetry station Numismatics Pilot Project on a Canon 5DSR. We worked with the incredibly talented women of the Smithsonian NMAH numismatics department: Ellen Feingold, Emily Pearce, Hillery York, and Jen Gloede. Over the span of 5 working days, I documented 80 coins via photogrammetry, surpassing the 40-capture goal for the week. My station captured high detail color, and my co-worker used the structured light scanner to capture high accuracy geometry. With the combination of photogrammetry and structured light scanner results in beautifully precise 3D renders. The goal is to improve access to the 1.6 million objects in this incredible collection.

Renders courtesy of Max Anderson.
3D Scanning Hazy Air and Space Museum
In the last week of my internship, I got the opportunity to help Brian McGarry 3D scan the whole Hazy Air and Space Museum using the Faro 3D scanner to map out the architecture. This machine looks like a little box on a tripod but in only a few minutes, the scanner produces dense point clouds containing millions of points that create immensely detailed 3D color images of large scale geometries. So by taking multiple scans at different locations, a cohesive point cloud can provide a copy of the large structure.
Whole day shoot at Hazy Museum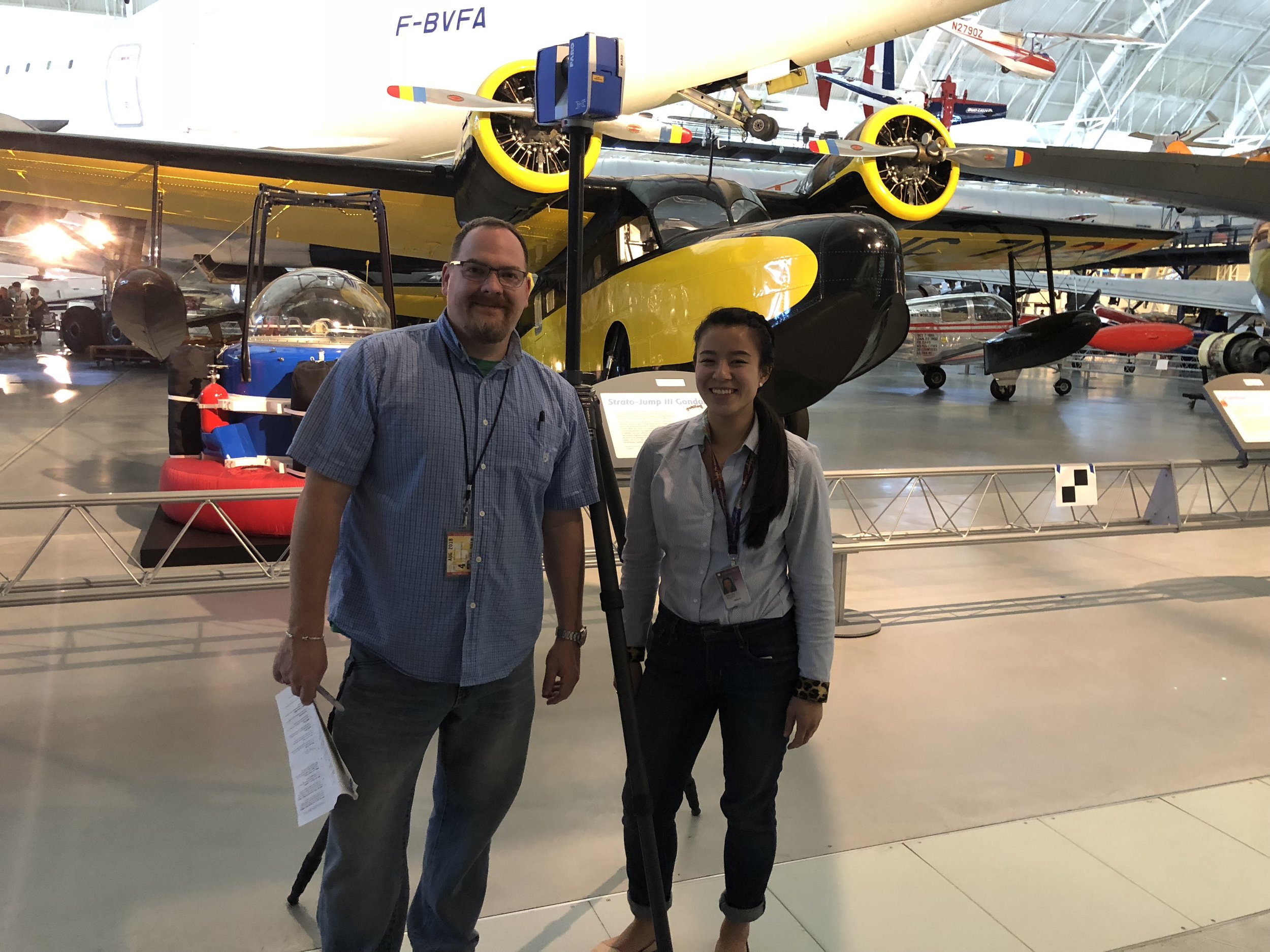 Exhibit Design Manager at Smithsonian Institution National Air & Space Museum
Over the course the internship, I had the opportunity to assist on unbelievable projects with amazing people from a variety of Smithsonian museums. When I wasn't working on assignments at other museums, I was creating renders of scans, producing graphic design, and preparing social media content. I also interned with Xiyue Yang, a Web Design student at Lycoming University, and Asiel Sepulveda, a Smithsonian Latino Center Fellow working on getting his Ph.D at SMU. Whether exploring the photo studio at NMNH with Xiyue or assisting on a secret project at NMAH with Asiel, it was fascinating to see the intricate clockwork behind one of the most esteemed institutions in America.
Vince Rossi, Meg Dattoria, Joe Conrad, Max Anderson, Taylor Houlihan, and (Jon Blundell)